Recreation
Shopping & Sites
Are you looking for the perfect gift or something to take home and remember your North Florida vacation? Explore the wealth of art galleries, souvenir shops, antique stores, and boutiques sprinkled throughout the Panhandle's coastal towns.
Port St. Joe
Port St. Joe's historic downtown is just one block off Highway 98 and includes the acclaimed Reid Avenue shopping district. Shop stylish women's apparel and gifts at Fuss Boutique. Visitors can find home decor and other locally made goods at Joseph's Cottage. And for the antique seeker, Bay Breeze Antiques collects nautical and beachy treasures. Find fresh produce and a variety of artwork and crafts at the dog-friendly Port St. Joe's Salt Air Farmers' Market. The town is a hub for boating, so many town shops can outfit visitors for their boating, fishing, and other outdoor activities like BlueWater Outriggers and Daly's Dock & Dive Center. For a bit of Florida history, visit Port St. Joe's newest landmark – the Cape San Blas Lighthouse. Safely relocated to the pine hammock of George Core Park, the lighthouse has a rich story. Looking to relax? Visit Cut N Up, a full-service salon, or Spyglass Beauty for spa services.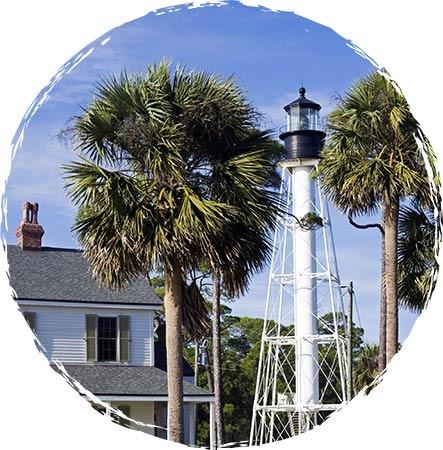 Apalachicola
Meander into Apalach Outfitters for locally styled and owned casual clothing or BECASA for chic collections. Peruse Marilyn Brogan Jewelry for beautifully crafted and sustainably handmade fine jewelry. Browse the antiques at the Tin Shed, and if you enjoy art, explore the many galleries near Apalachicola Bay.
The splendid flora and fauna of the Forgotten Coast have long inspired artists and craftspeople. Their creations highlight the personality and resilience of the culture. Discover the area's local artistry at the galleries that inhabit many of the historic warehouses of downtown Apalachicola. Visitors could spend an entire day perusing folk art, photography, sculptures, glass, home goods and more. If you enjoy contemporary art, consider The Gallery at 49 Palmetto. Or perhaps you fancy more traditional natural scenes and wildlife, drop by the collection at River's Edge Apalachicola and the Live Oak Gallery. And if you prefer performance art, you can catch a show at the Panhandle Players Community Theater in Apalachicola.
St. George Island
There are plenty of shopping and family-friendly activities to do on SGI! Did you forget to pack your bathing suit? Pop into St. George Island Trading Co. right across from the historic St. George Island Lighthouse, stroll into Seaside Cotton for stylish resort wear and accessories for men and women or schedule a visit to Art of Glass and participate in one of their many classes. Stop by Island Outfitters if you're in need of sports gear for that fishing trip you just booked, and for specialty fishing equipment, see about the Forgotten Coast Fly Company.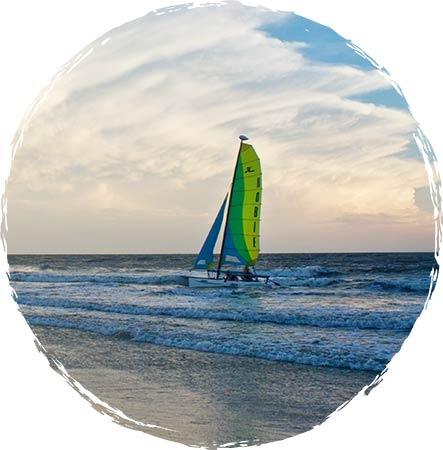 Outdoor Adventures
Cape San Blas
Cape San Blas is a barrier peninsula that curves around St. Joseph Bay. The Bay is a center for outdoor adventures with easy access to boating, fishing, kayaking, snorkeling, paddling, and more. So, whether you're a major outdoor enthusiast or you are only looking for a recreational amount of sun and water on your skin, the Cape and Florida's Gulf Coast is an adventurer's playground. Visitors can watch dolphins, birds, sea turtles and stunning sunsets with an abundance of hiking and state parks in the area. One of the great joys of Florida beaches is the sea turtles that nest on the beaches. Between the months of May and October, you may encounter newly hatched turtles finding their way to the water by moonlight.
The Cape encompasses 17 miles of gorgeous beach access throughout the peninsula. For a small cost, dig your toes in the soft sand at T.H. Stone Memorial St. Joseph Peninsula State Park. Just south of St. Joseph Peninsula State Park, Cape Palms Park provides free beach access with public areas featuring grills, pavilions, playgrounds and restrooms. Finally, for views of both St. Joseph Bay and the Gulf of Mexico, visit Salinas Park. It's an excellent spot for a dip in the water.
Boats are a way of life along the coast. From fishing to exploring to pure recreation, the opportunities are endless. The area makes it easy with plenty of access to boat ramps and marinas. As for fishing, there are few better places in Florida to cast your reel. You'll hook snapper, grouper, sea bass, mahi-mahi and more saltwater fishing in the Gulf. Your bounty from the Bay might include flounder, whiting, redfish, speckled trout and others. There are many local experienced captains offering charter services. Continue to choose your adventure and paddle your way along the area's paddling trails systems. Or rent a canoe or kayak, and explore miles of rivers, creeks, and coastline. The often-clear water is a delight. Vacationers can even saddle up and go horseback riding on the beach.
St. George Island
St. George Island is a 22-mile barrier island full of hidden gems, often ranked as a top U.S. beach. Although some people might argue that it's one of the best beaches in the world, locals certainly would. There are over 20 miles of beach for you and your pets to enjoy, with public areas featuring pavilions, playgrounds and restrooms. For a small cost, spend the day barbecuing with the family and lounging in the soft sand at St. George Island State Park.
There's an abundance of beach opportunities to explore beyond the island, too. Catch a world-class sunset at Old Carrabelle Beach. If you have a boat, discover the secluded treasures of Dog Island and St. Vincent Island. Or drive along coastal Highway 98, and enjoy the gulf breeze all the way to the picturesque Apalachee Bay beaches of Bald Point State Park.
One of the great joys of Florida beaches is the sea turtles that nest on the beaches. Between the months of May and October, you may encounter newly hatched turtles finding their way to the water by moonlight. And birders can appreciate the many local bird species inhabiting St. George Island and Franklin County year-round. It just so happens that SGI's Unit Four Beach, part of the Apalachicola National Estuarine Research Reserve, is a fantastic bird-watching location. Bird lovers will also be happy to learn that 12 stops along the Great Florida Birding and Wildlife Trail are just a short drive away, incorporating local state parks.
See rare plants and wildflowers, bald eagles, and a tortoise or two when hiking at Tate's Hell State Forest. Travelers are often seen grabbing a photo in front of its retro entrance sign. Hiking, camping, fishing, and boating are available in the area's forests.
Rent Gear
Cape & Coast Premier Properties has partnered with VayK Gear to compliment your upcoming vacation at a participating property. Rent popular, top-quality beach gear items like bikes, chairs, umbrellas, kayaks, paddleboards, corn hole, beach carts, boogie boards, and more. Plus, VayK will deliver and pick up your vacation gear. It's so easy! Learn more.
Pet-Friendly Place, Leave No Trace
Our area beaches are exceptionally pet friendly, with dogs allowed on both beach and bayside on most of the Island and Cape San Blas. Many local businesses and restaurants welcome dogs; however, the St. George Island State Park restricts dogs in some areas. Dogs must always be leashed. To ensure your pet has a fantastic vacation too, be mindful of sand spurs, local wildlife, traffic, providing shade and water, and cleaning up after your pet. Further, for the wellness of the beach and protecting sea turtles and other wildlife, Franklin & Gulf County requires that you "leave only your footprints" on the beach. Visitors can do this by limiting the use of lights near the waterfront after dusk, removing all trash, and returning personal and rental items to your home every night.